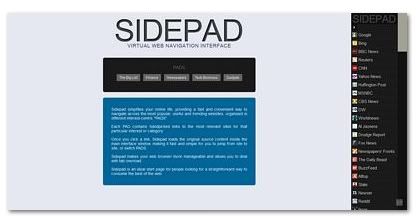 Ecco un comodo strumento per navigare in Internet e scoprire il meglio della rete in maniera veloce e molto pratica.
Sidepad, prima noto come Spickr e in seguito come Fasteagle, è un portale in lingua inglese che permette un accesso immediato a decine di siti popolarissimi raggruppati in modo tematico in un comodo menù laterale sulla destra. Le sezioni comprendono:
The Big List, che comprende siti notissimi come Google, Bing, Yahoo! e altri

Finance, che integra utili accessi a siti del mondo dell'economia come Forbes, Financial Times o Wall Street Journal
Newspapers, che permette di accedere a decine di famosissimi giornali in lingua inglese come Washington Post, USA Today o The Guardian

Tech Business, un gruppo utilissimo che integra siti sulle ultimissime novità tecnologiche come i notissimi Mashable o Ars Technica
Gadgets, con accessi diretti a Engadget, The Verge o CNET
Per navigare nel lungo elenco di siti forniti, basta scorrere col puntatore del mouse la barra chiara in corrispondenza del menù laterale. Un ottimo tool gratuito per navigare in siti notissimi in tutto il mondo risparmiando davvero tanto tempo.